Description
RO Flow Restrictor 450
RO Flow Restrictor 450 flow-(FR-450)
Flow Restrictor-(FR) RO systems restrict the flow of concentrate to optimize the water economy.
Ensures adequate backpressure for optimum pressure of membrane.
Ensures the RO membrane doesn't get prematurely fouled by dissolved minerals.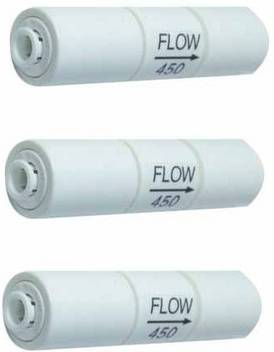 Flow Restrictors generate pressure in the reverse osmosis membrane element and provide an adequate ratio of reject flow and product flow.
The number on the flow restrictor indicates the flow rate, in milliliters per minute. This is a 450mL Flow Restrictor.
Flow restrictors are easy to install. They are inserted into the 1/4″ Drain Line Tubing. Buy some here.
We also have a store on Amazon as trusted sellers, you can also buy the same product here.
we provide a full 100% guarantee for optimum customer experience.